September 17, 2007
DePew Day
Rooney small style 1 brush
Penhaligon Blenheim Bouquet shaving soap
Hand American strop
5/8 DePew's "Perfect Razor"
Pinaud Clubman aftershave
This razor is a real oddity among straight razors, and is thus fairly collectible. Mr. DePew was clearly proud of his design - he went to the trouble of both patenting it and stamping this on the razor ("DePew's Patent June 6 1882"). Unfortunately this doesn't really explain why there were never any other razors like it in an era where patents were routinely ignored. The overall length of the razor is similar to other razors of the day, but this razor has a very short blade (about 1" shorter than other razors), a very short shank, and a very long tail (commonly called a "monkey tail"). The short shank only affords room for your thumb and forefinger to grasp the shank, so the other three fingers must rest on the extended tail. The extended tail thoughtfully provides room for them to fit, but since the razor is controlled from the shank and not the tail they don't do any good back there. The "Perfect Razor" winds up being a fairly precarious razor to use in practice.
Strangely enough, it shares the short blade and monkey tail design with the ultra-modern Japanese straight razor, the Feather "Artist Club" - though that razor uses a normal-length shank that allows a more natural hold.
Compare with the modern Feather:
Posted by: mparker762 at 08:59 AM
Post contains 239 words, total size 2 kb.
September 15, 2007
Dovo Day
Rooney small style 1 brush
Penhaligon Blenheim Bouquet soap
Sears Craftsman horsehide strop
Dovo Bergischer Lowe razor
D. R. Harris Face Millk
This is one of my favorite razors: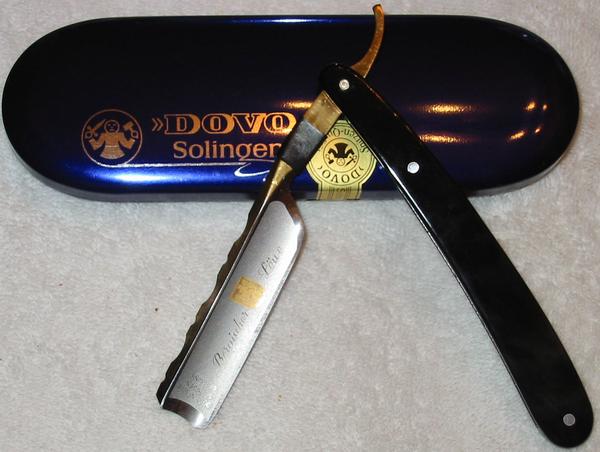 This razor is still being made by Dovo in Solingen Germany, and it can easily hold its own against the best of the vintage razors. The steel is actually Swedish carbon steel, and has been hardened and tempered very well so this razor will take and hold an extremely fine edge. It shaves better than my Dubl Duck Wonderedge, and about as well as my Puma Gold or my Sta-Sharp razors, and has always been easy to sharpen.
The diamond-shaped spine is machined into an attractive scalloped pattern then gold plated. The scales are buffalo horn, and are mostly black with some grey figure that unfortunately doesn't show up in the photo. The strange tip shape is a concave or spanish-style point, and it makes it a bit easier to shave underneath the nose. Like many vintage Pumas - some of which were subcontracted to Dovo - this razor has a rubber grip on the shank; unfortunately it is a bit of a maintenance hassle to keep rust from forming under the grip.
Posted by: mparker762 at 09:55 PM
Post contains 204 words, total size 1 kb.
September 13, 2007
Waterville Day
Rooney Brush
D. R. Harris Almond soap
Hand American strop
5/8 Waterville
Although this grand old razor can't hold quite the edge of his more recent brethren he still handles like a dream and delivers a fine shave anyway. A really great razor.
more...
Posted by: mparker762 at 03:42 PM
Post contains 45 words, total size 1 kb.
13kb generated in CPU 0.03, elapsed 0.0443 seconds.
40 queries taking 0.0314 seconds, 87 records returned.
Powered by Minx 1.1.6c-pink.