September 15, 2007
Dovo Day
Rooney small style 1 brush
Penhaligon Blenheim Bouquet soap
Sears Craftsman horsehide strop
Dovo Bergischer Lowe razor
D. R. Harris Face Millk
This is one of my favorite razors: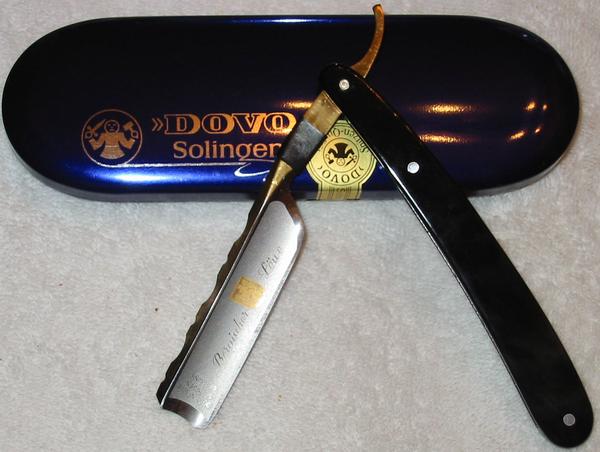 This razor is still being made by Dovo in Solingen Germany, and it can easily hold its own against the best of the vintage razors. The steel is actually Swedish carbon steel, and has been hardened and tempered very well so this razor will take and hold an extremely fine edge. It shaves better than my Dubl Duck Wonderedge, and about as well as my Puma Gold or my Sta-Sharp razors, and has always been easy to sharpen.
The diamond-shaped spine is machined into an attractive scalloped pattern then gold plated. The scales are buffalo horn, and are mostly black with some grey figure that unfortunately doesn't show up in the photo. The strange tip shape is a concave or spanish-style point, and it makes it a bit easier to shave underneath the nose. Like many vintage Pumas - some of which were subcontracted to Dovo - this razor has a rubber grip on the shank; unfortunately it is a bit of a maintenance hassle to keep rust from forming under the grip.
Posted by: mparker762 at 09:55 PM
Post contains 204 words, total size 1 kb.
Comments are disabled. Post is locked.
11kb generated in CPU 0.04, elapsed 0.0504 seconds.
42 queries taking 0.0369 seconds, 101 records returned.
Powered by Minx 1.1.6c-pink.