September 13, 2007
English Waterville
Waterville Cutlery of Waterville Connecticut was one of the top-of-the-line American razor manufacturers in the 19th century. From what I can find, they began production in 1843 and ceased production in 1898. Their earlier razors especially exhibit some truly nice lines, these are some of the most elegant-looking razors you will ever see. I currently own four Watervilles - two early ones, one from the last few years of production, and one from the 1870s.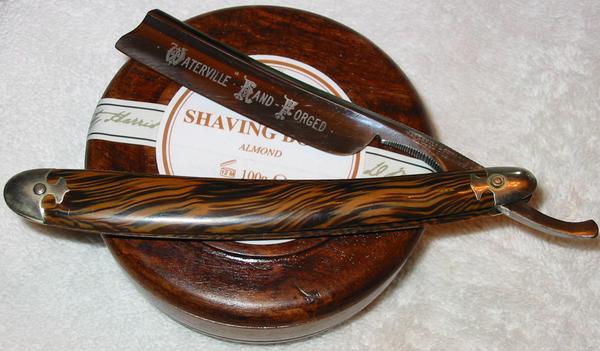 This was my first Waterville razor, and I believe it to be the oldest of the bunch as well. This razor is unusual in that it has "Made in England" etched into the back side of the tang - this is the only such Waterville that I and several straight razor experts have ever seen. Because this razor has some similarities with the older style of Watervilles it is quite possible that Waterville started out importing razors from Sheffield before they ramped up their own production facilities. The scales are not original - when I acquired it it was wearing some cheesy bamboo-looking faux-ivory scales, though those were also not original as the pins were 20th century Solingen-style nail-pins. Also it appears that a previous owner had chipped the tip of the razor and "repaired" the damage by grinding out the chip into a vee-notch.
It holds a special place for me as this was the razor that convinced me to switch from the big Sheffield wedges to the smaller lighter 5/8 size full hollows. Unfortunately that vee-notch in the tip kept gouging my strops, so if I was going to continue to use it I would need to do something about the tip. I put this razor away for many months while I pondered my options. Eventually I decided to go ahead and modify the tip of the razor. I reground it into the modified oblique shape shown above, which meshes well with the existing lines of the razor and immeasurably improves the razors behavior on the strop.
Posted by: mparker762 at 03:39 PM
Post contains 336 words, total size 2 kb.
Comments are disabled. Post is locked.
12kb generated in CPU 0.03, elapsed 0.0411 seconds.
42 queries taking 0.03 seconds, 101 records returned.
Powered by Minx 1.1.6c-pink.