August 20, 2007
Lovely Complex #19
Great episode. The comical couple is still feeling their way after the upending events of the previous episode. Otani wants to keep things secret so he won't get ribbed by their friends. Koizumi is on cloud 9, here seen skipping amidst floaty hearts...
First day-to. World Games. It ain't going well, and Koizumi's needing some TLC...
And gets it...
WTF?
Turns out the camera crew snagged some human interest to spice up the games. So much for keeping it a secret...
But he gets over it. Here seen (re)introducing Koizumi to his ex-girlfriend. Yeah that's gonna make Koizumi's day.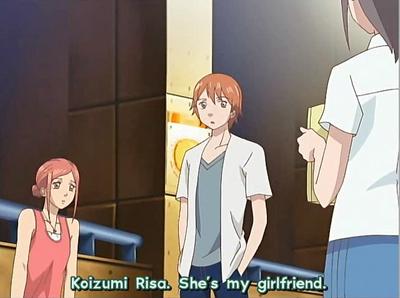 But trouble is on the horizon...
Mimi's a young-un too. 2nd year middle school, which I think makes her 3 yrs Otani's junior. Otani doesn't seem to be terribly interested, but with that battle aura she's unlikely to be deterred by minor quibbles like that.
Good episode. I was hoping Koizumi would stop the incessant crying now that Otani's finally come around, but I guess the hormones are still cranking. Still, there was plenty of comedy to keep the mood light. And unlike
High School Days
the series is unlikely to end in major bloodshed.
Posted by: mparker762 at 08:20 PM
Post contains 197 words, total size 2 kb.
Comments are disabled. Post is locked.
11kb generated in CPU 0.03, elapsed 0.0636 seconds.
42 queries taking 0.0458 seconds, 101 records returned.
Powered by Minx 1.1.6c-pink.